Work at KE Camps!
Our Unique Camps
KE Camps is the leading provider of summer camps for country clubs nationwide. We partner with over 160 private clubs all over the country to implement traditional-style day camps for elementary-aged children. Each of our camp locations will have a KE Camps staff team consisting of one Camp Director and several Camp Counselors. Our Staff are the backbone of our programs and therefore, we pride ourselves on giving them an incredible amount of support. As a Camp Director or Counselor, we guarantee you will feel a part of the KE Camps Team!
Join our Summer Team
We are looking to put together a dynamic, fun, responsible, creative, and dedicated team of staff members for each of our camp locations. If you love to work with children, enjoy staying active and have endless amounts of energy, then this is the job for you! Not only will you become a role model for your campers and impact their lives in a positive way, you will also earn a competitive salary and build your resume. *Before applying, please check your specific camp's webpage as camp staff must be available for all weeks of camp.*
For a list of our day camp locations, click here.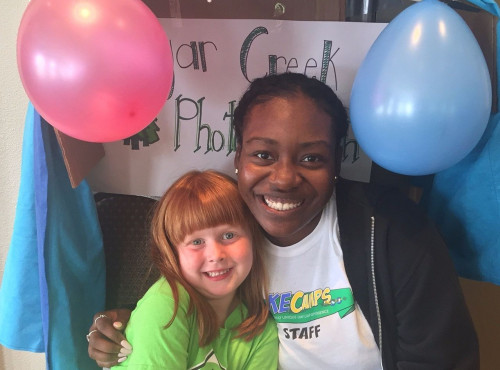 Benefits of Working at Camp
Working at KE Camps is more than just supervising campers all day or "glorified babysitting"! Endless leadership and employment skills are cultivated by working at camp, giving our Camp Directors and Counselors the oppportunity to grow both personally and professionally throughout the summer. Even if your ultimate career path is business, marketing, or another non-child-related industry, the experience you will obtain by working at camp can easily be translated to any profession. Check out these resources provided by the American Camp Association which share the many career-enhancing benefits of working at camp and how the camp experience readily compares to what future employers are seeking!
Translating Camp Employment To Your Resume
Help Our Campers to SMILE This Summer!
Attending a summer camp can strongly impact a child's life and your role as a staff member is integral to making this happen in a meaningful way. You will be there to help our campers laugh, gain self-confidence, build new friendships, try new things and feel supported in everything they do through the use of our Camper Values System.
C.A.M.P.E.R.S: The Core Values of KE Camps
Create Confidence, Adapt & Adjust, Make Magic, Participate & Play, Exceed Expectations, Rely on Reason, Start with Safety